About Saga Prefecture
SAGA - Experience the traditional and modern life of Japan-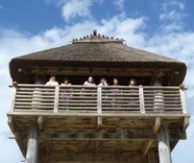 Yoshinogari Historical Park
Saga Prefecture (population 860,000) is located in the northwestern part of Kyushu, the southern part of Japan, 900 kilometers away from Tokyo (about 90 minutes by air). The climate is mild with an average annual temperature of about 16 degrees Celsius. Saga is blessed with rich natural environments and is a very comfortable place to live in. People can enjoy beautiful natural scenery and events throughout the year.
Since its earliest times, Saga has enjoyed active exchanges with overseas countries. There are lots of historic sites around the prefecture, such as Yoshinogari Ruins and Nagoya Castle. Above all, Yoshinogari Ruins, which is designated as a special historic site, was one of Japan's largest moat-encircled villages some 2000 years ago. In particular, Saga is world famous for its ceramics and porcelain in Arita, Karatsu, and Imari. This is one of the results of international exchanges, when ceramic technology was brought to Japan from China and Korea about 400 yeas ago. Today, there are various kinds of international events such as the Saga International Balloon Festival and Kashima Gatalympics. People in Saga are very enthusiastic about international exchange.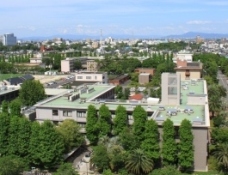 Honjo Campus
Saga University is situated in the center of Saga City (population 240,000). The City is small enough to be friendly, uncrowded and safe. Longstanding tradition and the Samurai spirit of Hagakure remain and are deeply rooted in the life of the people. Besides, Saga has good access to Fukuoka Metropolitan Area, the fashionable center of economy and culture in Kyushu. In less than an hour, you can go there and enjoy shopping, feeling the urban culture. Our two campuses, Honjo and Nabeshima, are surrounded by the beauty of nature and located in one of the largest agricultural areas. The rich green environment is ideal for studies and research and is loved by students and citizens.